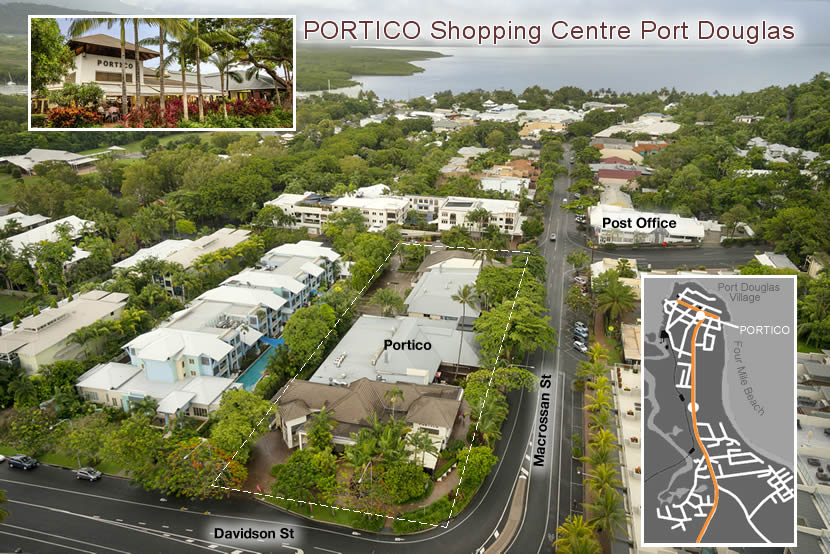 Welcome to the Portico Shopping Centre
Main Street - Port Douglas Australia
>> Click here for a live web camera looking towards Four Mile Beach <<

PORTICO shopping centre is located on the prime corner of Macrossan Street (main street) and Davidson Street (main road into Port Douglas) It is on your left as you enter the main street of town and enjoys over 100 metres of Macrossan Street frontage. Visit the location page for more >>
Home to a wide range of specialty shops, take aways and award-winning restaurants such as Zinc Restaurant & Lounge Bar, a visit to PORTICO is a "must do" when in Port Douglas. You can even book all of your tours to the reef and rainforest, purchase all of your groceries, and access free Wi-Fi at PORTICO.
Many accommodation apartments are located between Four Mile Beach and PORTICO; all within walking distance. PORTICO also has ample free under-cover parking with the entrance off Davidson Street beside Brumby's Bakery.
Designed with the tropics in mind, PORTICO features low-rise architecture, superb, lush tropical gardens and wide, cool verandahs for you to soak up the tropical atmosphere while dining or shopping.
For up to date information and news, visit our Facebook page . You might also like to take a look at the two live web cameras in the centre - street cam - Zinc Restaurant's cam
One Retail Opportunity Now Exists

Join one of Port's best retail complexes in one of the best locations in town.

Existing retailers include: Brumby's Bakery, Zinc Restaurant, NightOwl Convenience, Shakes and more.

We have one tenant wanting to sell their business.
An established business with easy hours and plenty of potential.
Or use the existing equipment to create your own business.
Very low up front equipment purchase price & a low weekly rent.
Ideal for a mum & dad operator with training offered.

Brumby's Bakery

Brumby's is open from 6am offering a large range of breads, pies and pastries.
more >>

Zinc Restaurant & Bar

Closed for refurbishment
Re-opening early 2018
Visit their site below for news & updates
zincportdouglas.com

NightOwl Convenience

Nightowl Convenience
for all your general needs.
OPEN: 6AM - Midnight every day.
Phone 07 4099 4286

Portico Pizza

Portico Pizza, has quickly gained the reputation of serving some of the best pizza in town.
OPEN: 5pm - 9pm every day.
Phone 07 4099 4870
PorticoPizza.com

Shakes Gelati Bar

Shakes offers healthy fresh juices and a large range of ice creams. A popular stop for locals and visitors anyday.
OPEN: 11am - late, every day.
more >>




BTS Bus

Ride in comfort on the Port Douglas Bus, the safe and relaxing way to
explore Tropical North Queensland with transfers between Port Douglas, Cairns City, Cairns Airport,
Palm Cove and Mossman Gorge.
website >>

Port Tour Specialist

For all your accommodation & tour booking requirements. Independantly owned & operated.
Open every day:
Weekdays 9:30am - 6:30pm
Weekends 10:00am - 6:00pm
more >>

Barbarella & Swan

Port Douglas' new women's fashion destination boutique.
Open every day.

Stocking unique fashion labels featuring Australian Designers Mackenzie Mode, Jiva, Leina Broughton, Yoshi Jones, Sacha Drake, Retrospec'd and more, as well as Mesop, Heartbreaker and accessories by Polli and Miravidi.
more >>

Jimmy Rum's

NOW OPEN

Port's newest place to enjoy authentic cocktails & other drinks.

Located in the Portico Building between Barbarella & Sway and Trip.

Tript

Tript is the largest and most comprehensive fashion retailing store in Port Douglas. Established in 2007, visit Tript to view their huge variety of surf brand apparel and accessories along with surfboards, skimboards, skateboards and hardware accessories.
Open 9am - 7pm ever day.
more >>

Churrasco

A Churrascaria is a restaurant serving grilled meat, offering as much as one can eat. Customers pay a fixed price and waiters bring samples of food to each customer throughout the meal.
Open 5 - 10pm daily.
Fri-Sat Lunch
Sunday Brunch
more >>

Wedding Receptions

Many wedding receptions are held in the Portico centre each year at Zinc. Portico's tropical garden setting combined with Zinc's reputation for professional service and fine food and wine is hard to beat.
more >>

Wi Fi @ Portico

Available at Zinc and free with any purchase. Call in for a coffee or a drink and ask for the day's access code.
Zinc

Live Web Cameras

Our live web camera looks down the main street towards Four Mile Beach.
Street Cam

Dining Vouchers

Zinc restaurant sellS gift vouchers - a great gift idea if you know someone heading to Port Douglas.
Zinc

About Port Douglas

Port Douglas is located 60km north of Cairns International Airport, in Tropical North Queensland Australia, is the nearest mainland town to the Great Barrier Reef and a popular tourist destination for holiday makers from both Australia and overseas.


Port Douglas has a distinct ambience, an unusual but appealing combination of tropical languor and cosmopolitan sophistication set against the backdrop of the pale blue waters of the Coral Sea.